How does it work?
It is so easy - you will love it!
Total confidence
you're feeding your dog right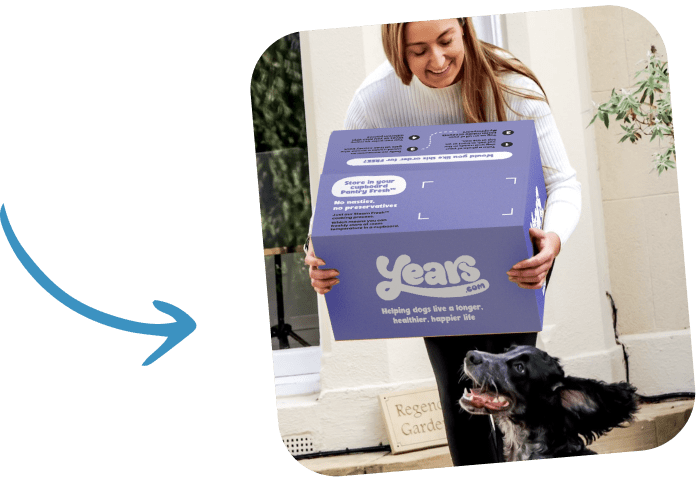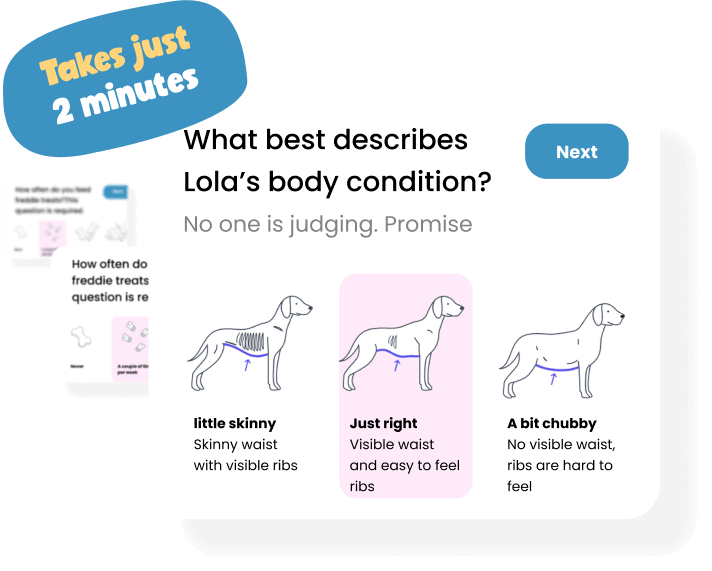 You'll answer a few easy questions about your dog which will take just a few minutes. You won't be able to order Years without doing this because our goal is to help your dog live a healthier, happier, longer life and we believe that requires tailoring your dogs meals.
Once you answer these questions our Board Certified Veterinary Nutritionist algorithm automatically calculates:
Your dogs recipe with breed specific ingredients

Your dogs calorific needs for their age and lifestyle

Confidence you're feeding your dog right every day
Ingredients change depending on your answers:
Tailored calories
Your dogs wholefood meals are pre-portioned for their calorie needs.
Breed ingredients
Your dogs recipe includes ingredients specific for their breed
Custom Probiotics
Up to 400 million good bacteria tailored to your dog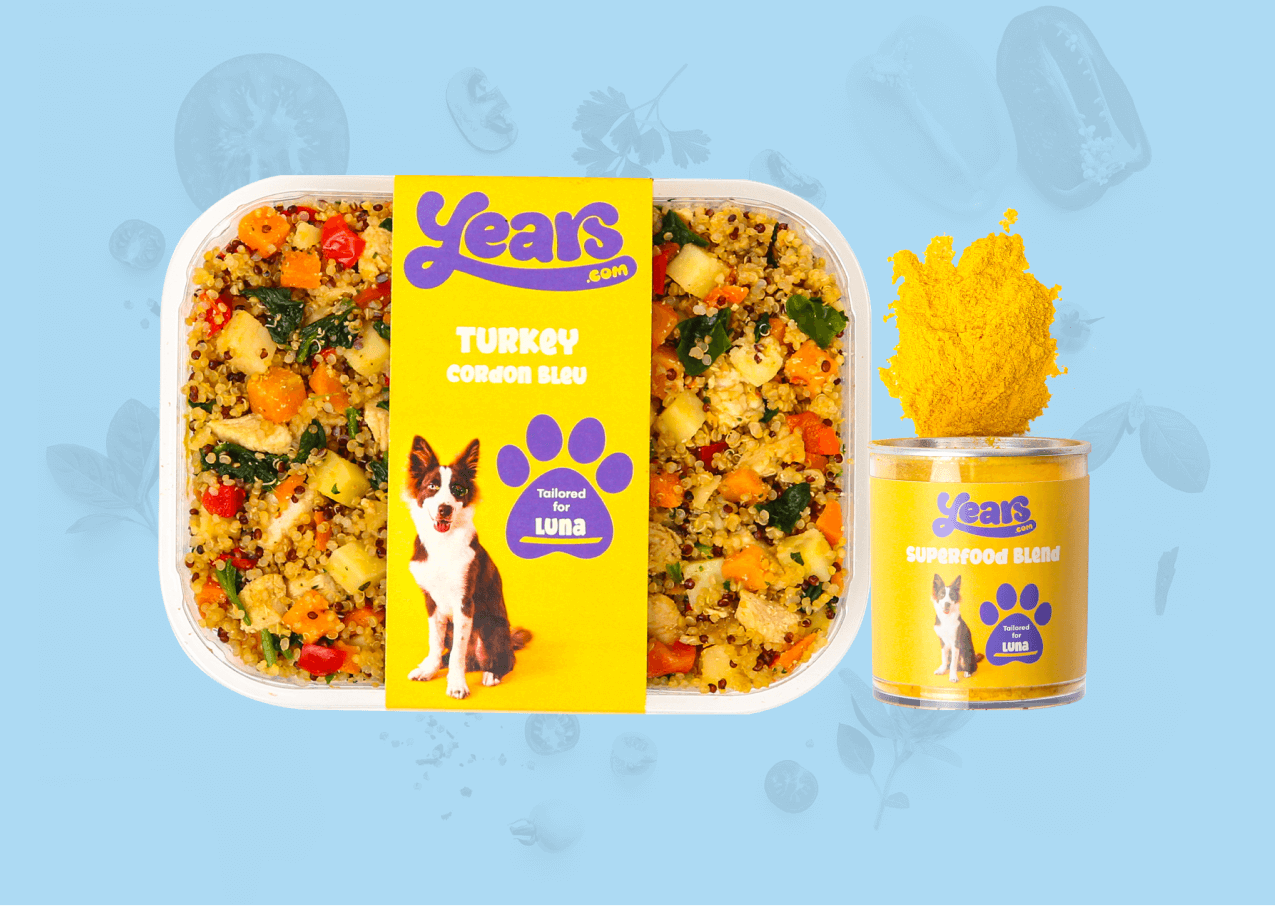 We formulate your dogs

Complete Nutrition System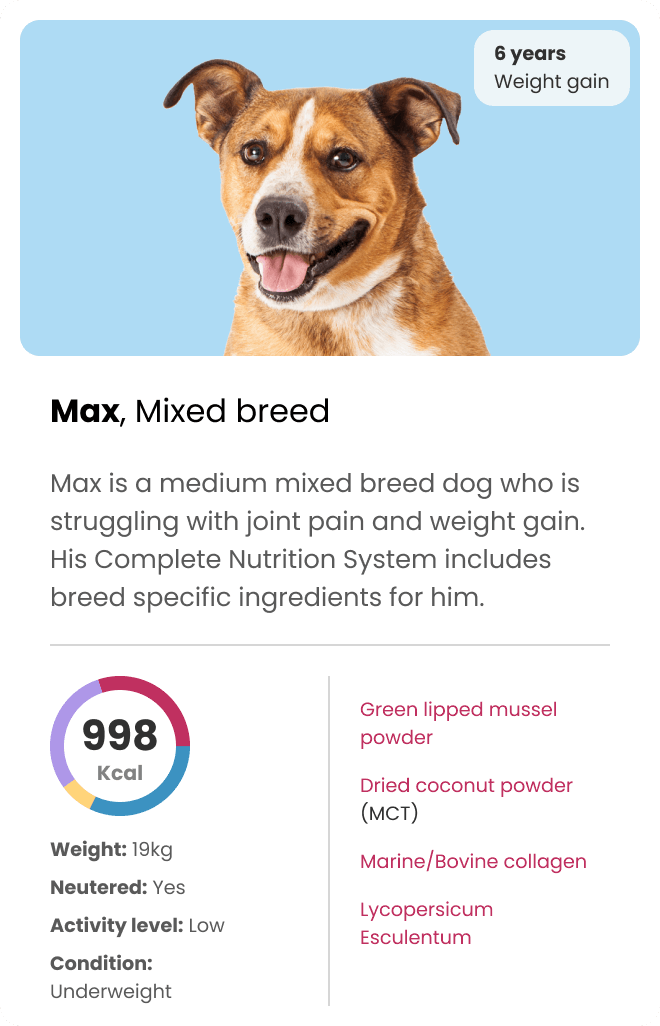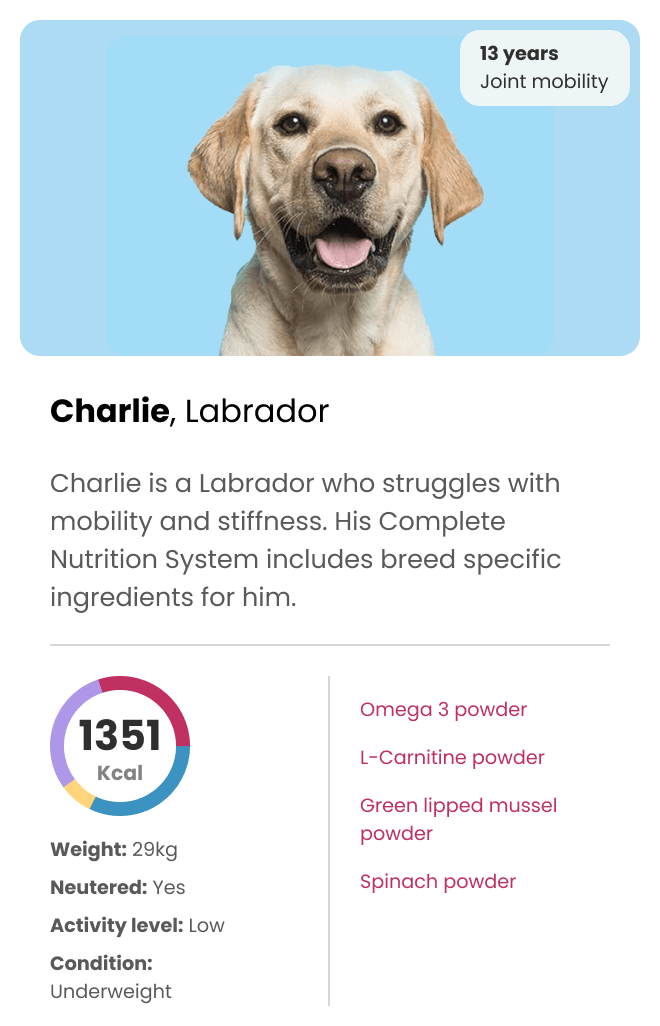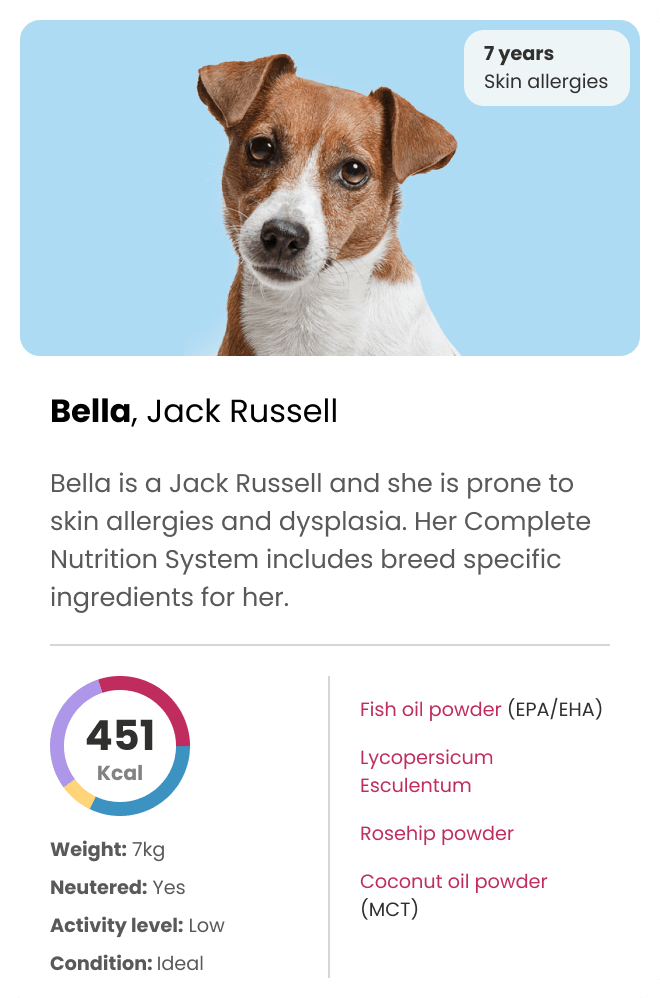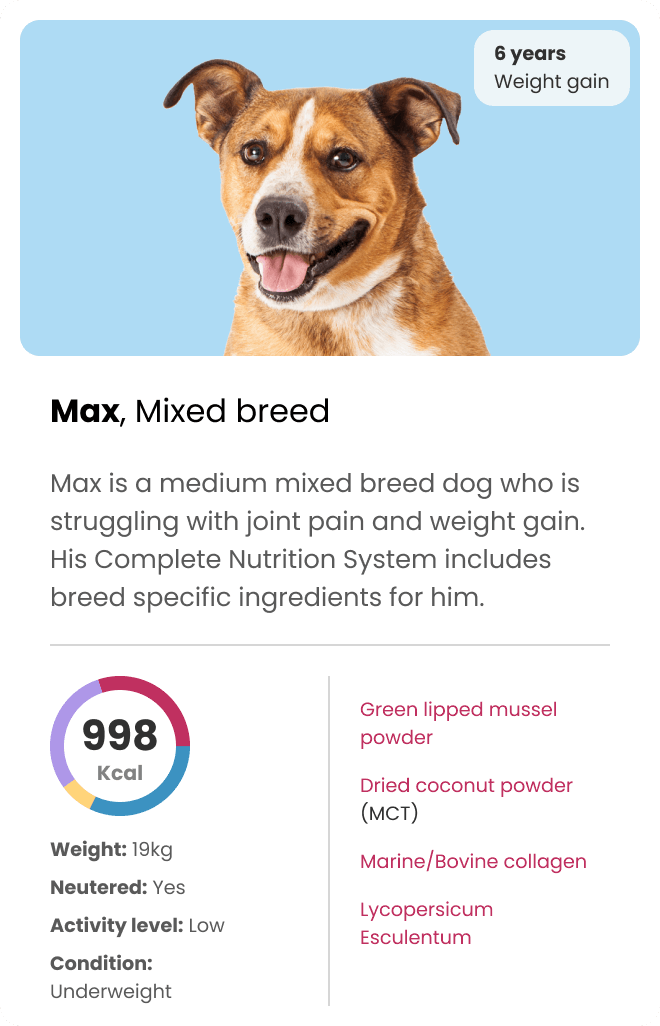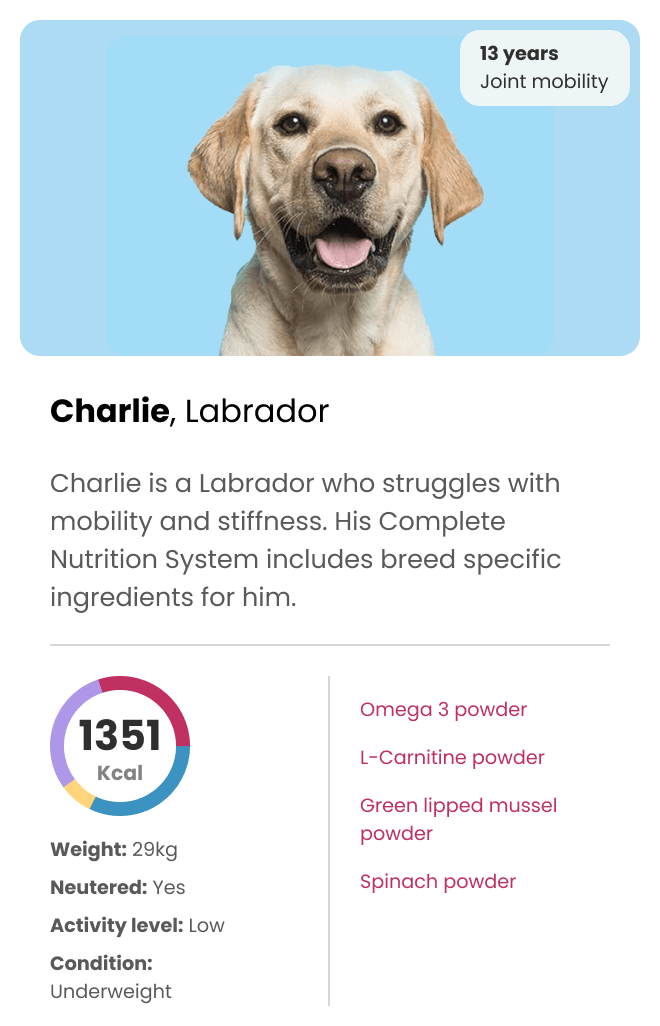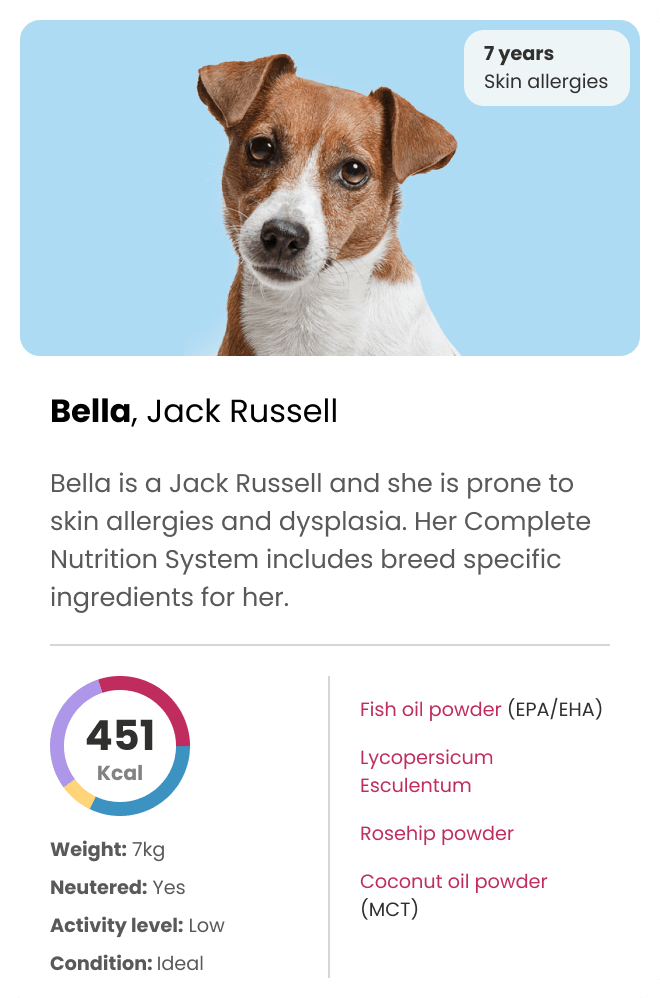 Everything Tailored To Your Dogs Breed, Age & More
Different breeds have different needs. The size of your dog, their activity level, snacks, personality, neutered status and age all impact what your dog requires from their diet
Breed specific nutrition – Your dogs breed impacts their longevity so we tailor their Complete Nutrition System accordingly

Life stage / Age – Puppies, adult and senior dogs have vastly different calcium and protein requirements so we tailor to meet their needs

Activity levels – Is your dog a couch potato or more energetic than a toddler? Both have completely different calorie requirements.
Complete Nutrition System for your dog
Wholefood meal
Your dogs recipe based on Dr Lippert study results

Superfood Supplement
Your dogs formula designed for their breed and longevity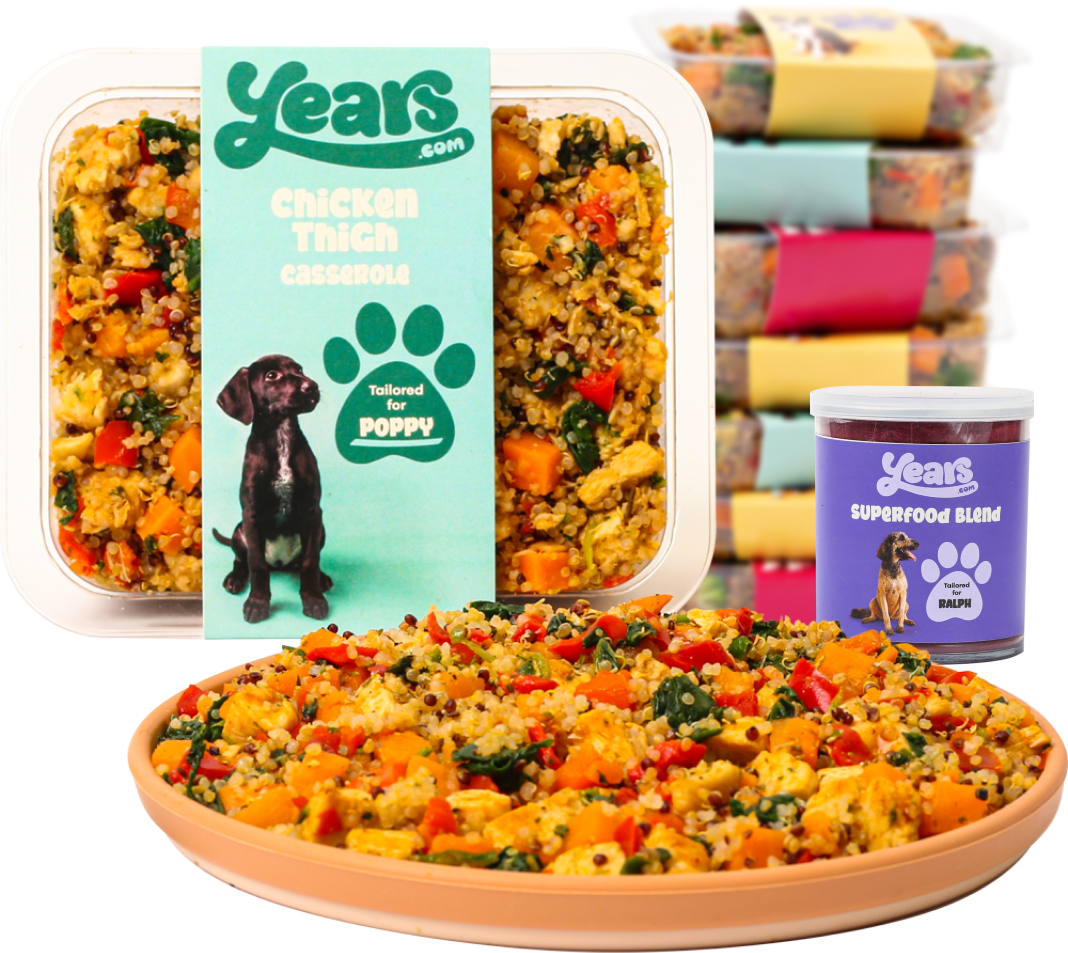 How much will Years cost?

Less than you think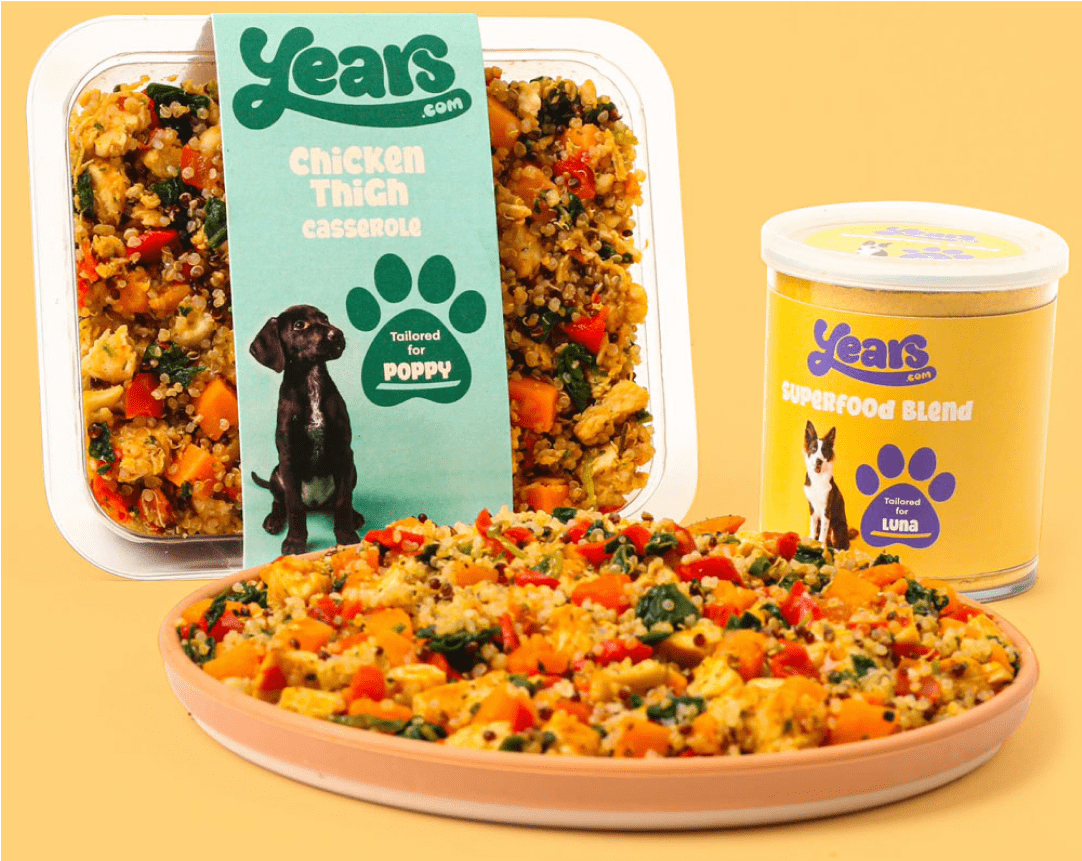 Your price, like your dogs recipe is tailored and always great value. Of course there are always cheaper alternatives but none which offer the type of Complete Nutrition system we do for your dog.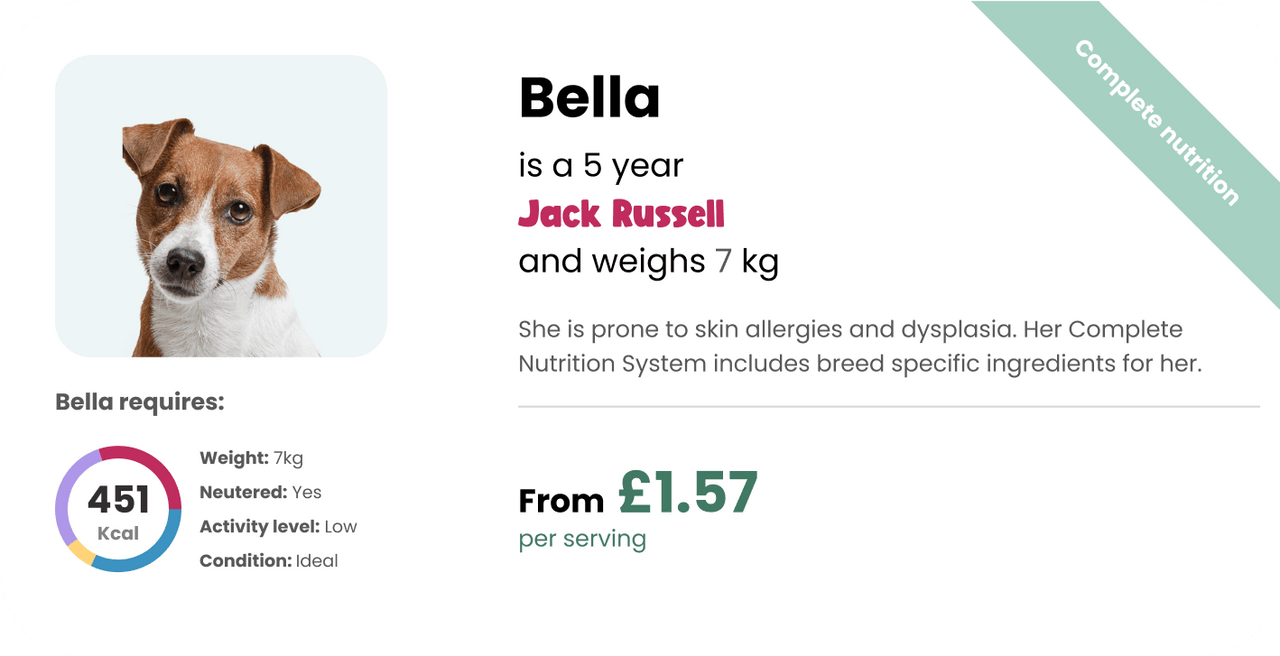 Our chefs freshly cook your dogs' recipe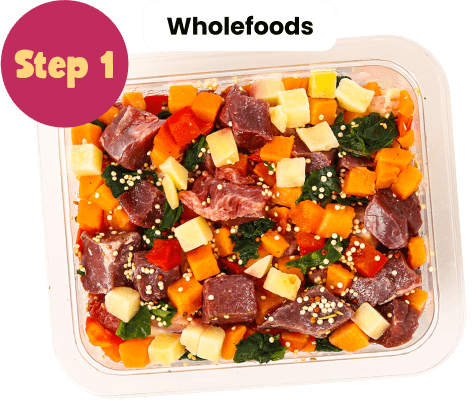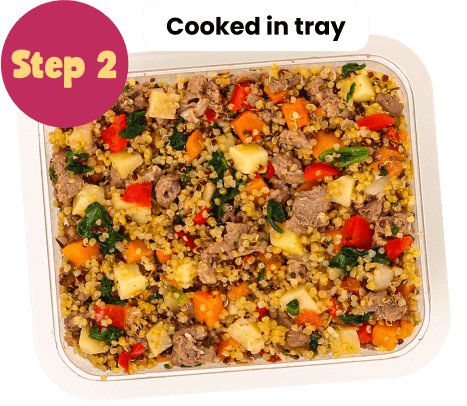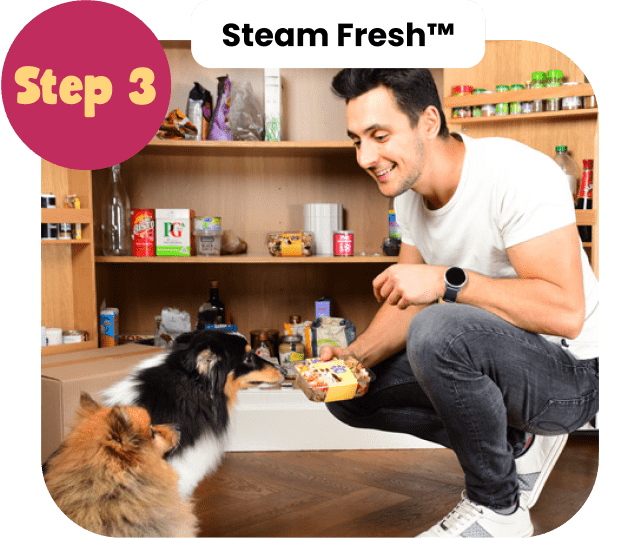 Our Steam Fresh™ cooking process means our chefs cook all your dogs fresh, wholefood ingredients in an airtight tray which locks in all the nutrients, meat broth and goodness.
With 60% prime cuts of meat (including steak!), wholefoods, vibrant veg, seeds, fruit, herbs and essentials oils we want your dog getting 100% of the goodness.
Meat you would eat
Prime cuts of steak, not "human grade" mechanical meats.

Cruciferous vegetables
High in phytonutrients and antioxidants.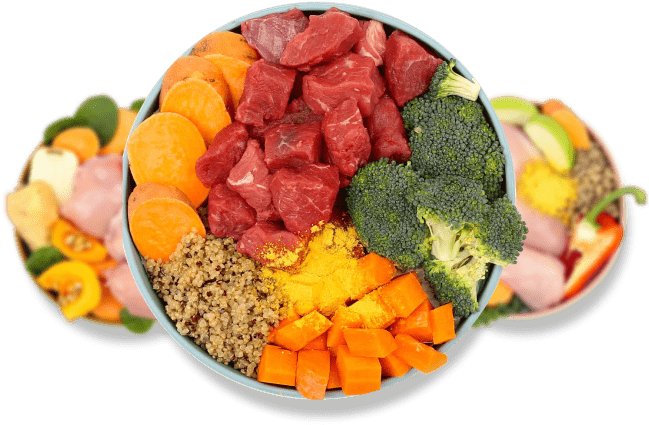 We deliver to your door on
the day you choose
Your perfectly portioned tailored recipes including your superfood blend. And thanks to our Steam Fresh™ cooking process which locks in nutrients in air tight tray you can even store our meals in a cupboard - Pantry Fresh™!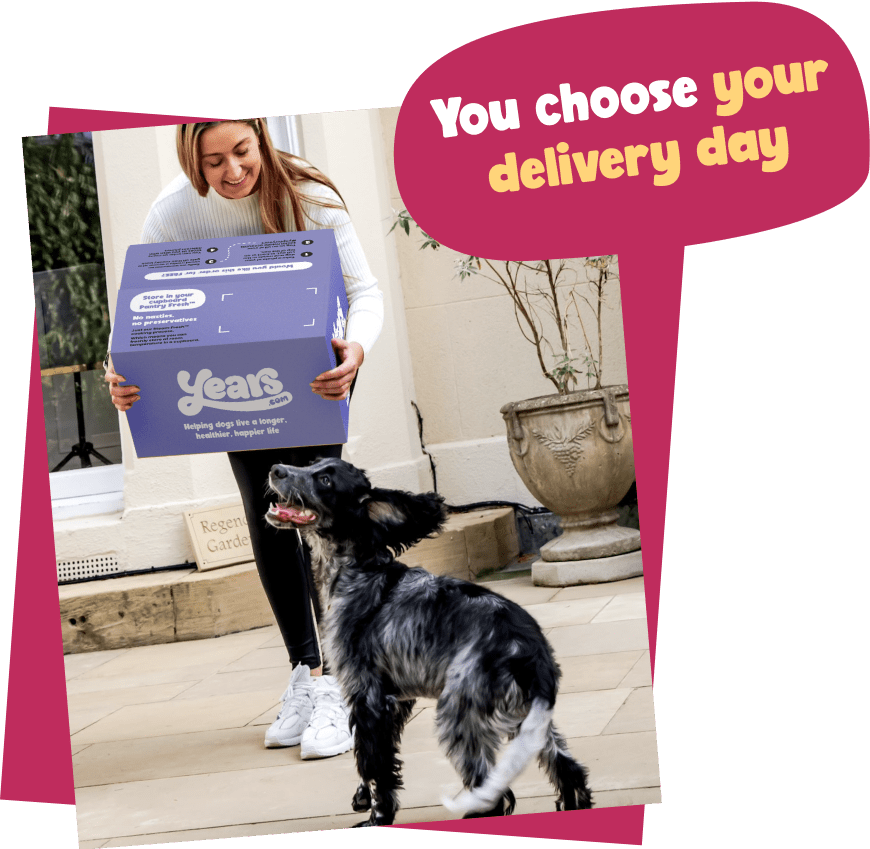 No more worrying about when your delivery will arrive
Choose your delivery day at checkout and our team will cook your meals and ensure there ready and waiting for you on the day you choose.
Delivery on a day that suits you

No need to be at home - will leave safe

No frozen or chilled product - so no stress!
Store fresh meals in your cupboard at room temperature
It's true! The benefits of fresh, wholefood meals but without the hassle of freezing, defrosting and stinking out your fridge.
Hassle free cupboard storage

Freezer? No. Fridge? No. Easy!

No nasties - 100% natural wholefood meals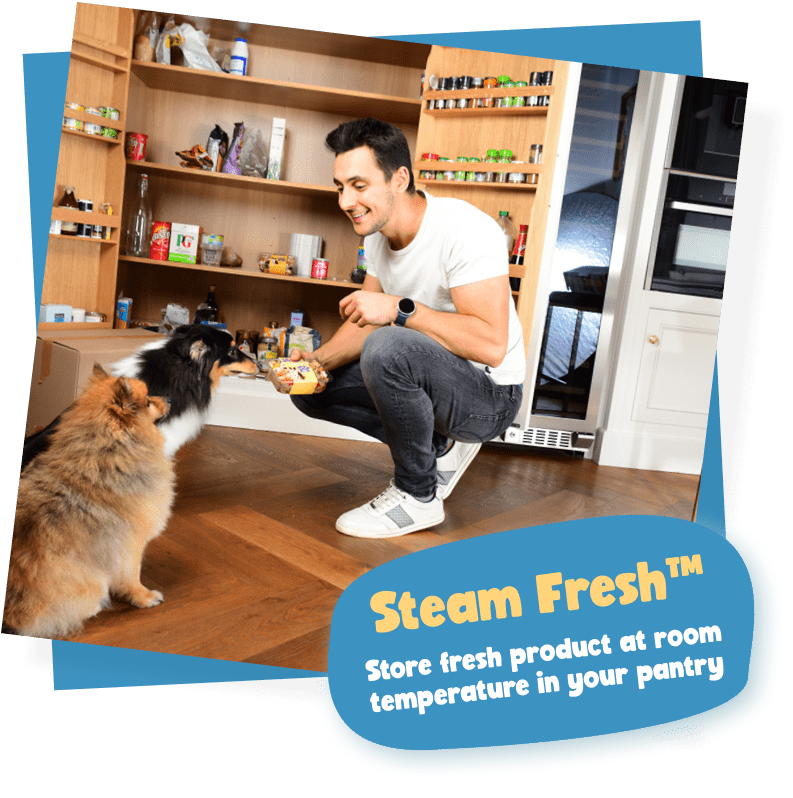 Are all tailored dog foods the same?
No - Years is incomparable, nobody else offers a Complete Nutrition System with breed specific nutrition.
Nutrition &
Ingredients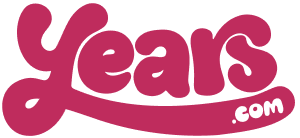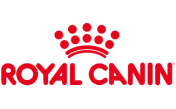 Breed specific ingredients
Declare % of every ingredient
Gentle cooking method
Zero legumes
Zero "mince" or mechanical meats
100% grain free
Probiotic digestive support
Prebiotic beta-glucan
Seeds & fruits
Hemp oil
Vibrant vegetables
Superfood Supplement
Store at room temperature
Which would you rather eat?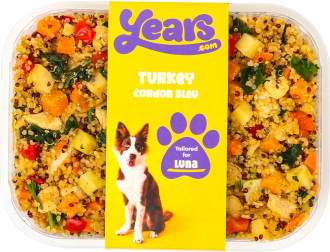 Frequently Asked Questions
Wondering if Years if for you?
Talk with us.
Our team is here to help with ANY query even if it's not related to our food. Our goal is to help dogs live longer, whether their eating Years or not.
Over the last three years, we have worked incredibly close with qualified vets and dog nutritionists to scientifically perfect our recipes. We use these studies and data, alongside the information you provide us with about your dog to create a highly accurate veterinary formula.

This then determines the exact number of calories and ingredients you should be feeding to your dog to benefit them. Therefore every dog fed Years, essentially has its own dietician consultant and personal chef curating their bespoke nutrition plan, because every dog is different.

Other dog food brands are currently only able to give you a guideline of what you should be feeding your dog based on their size.
We gently Steam Fresh™ your dog's meals to remove any harmful bacteria whilst still preserving the high-quality, vitamins, minerals, and moisture naturally found in fresh whole foods.

We have done the hard work for you so you don't need to cook your meals. Our food is delivered to you already cooked and ready to be eaten straight from the tray.
We use passionate about using prime cuts of meat from the muscle such as steak, chicken, and turkey thigh, which is higher quality than "human grade" meat.

Human-grade meat is a term commonly used in the dog food industry to give the impression of high-quality meat. However, human grade simply means that the ingredient could be used in a human meal. So human grade is often a disguise for mechanically separated meat.

So, there is a big gap between mechanically separated meat and a mouthwatering prime cut of steak. We know which we would prefer to eat, which dogs would prefer to eat, and therefore which makes it into our meals!

We believe that all animals should be treated with respect and live humane and fulfilling life. This is why we source all of our meat ethically from family farms with strict welfare standards. All of our wholefood and superfood ingredients are locally sourced also.
They most certainly are. Instead of grains or fillers, we use quinoa which is a seed with amazing health benefits such as encouraging normal heart and nervous system functions.
We are the first fresh dog food company in the world that is Pantry Fresh™. This means you can store your Years meals and superfood supplement blend in your pantry or cupboard. Neither requires freezing or refrigerating when unopened. Once your meals are opened, please refrigerate and use them within two days.

This makes Years meals extremely convenient, especially when travelling!

Both your meals and superfood supplement blends will stay fresh for PantryFresh™ for up to 3 months, but always check the expiry date on your labels.
Years is suitable for all life stages as we tailor our meals with age in mind. Some health conditions may need a clinically controlled diet so please get in touch if you are unsure if Years is suitable for your dog.