3 reasons why Years is
worth it for your dog
Years is tailored for your dog's unique needs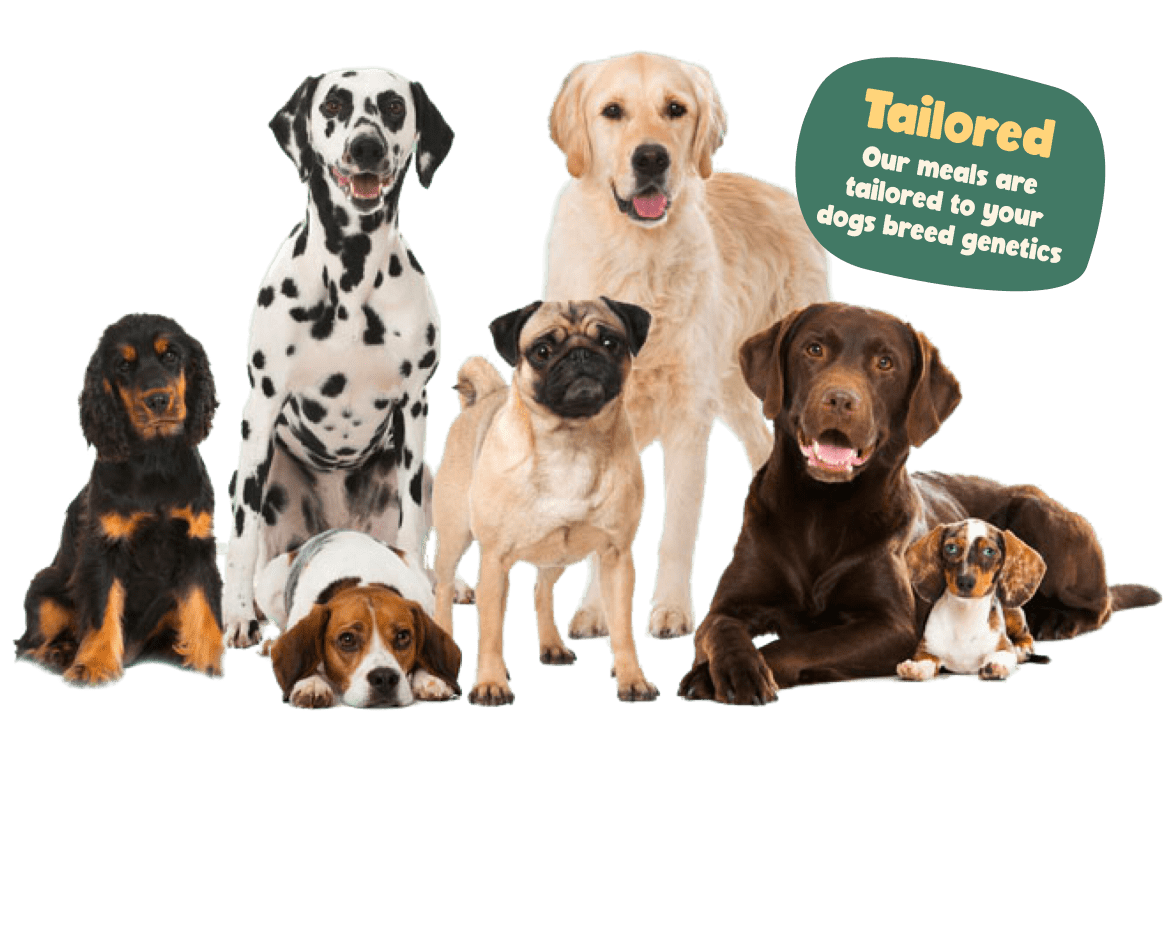 Years is the most tailored fresh dog food on the planet, with different ingredients and calories for different dogs. This means the price for every dog is different.

Your Years Complete Nutrition System is calculated for the specific nutritional needs of your dog including:
Breed - Your dogs breed impacts their longevity so we tailor their Complete Nutrition System accordingly.

Life stage/ Age - Puppies, adult and senior dogs have vastly different calcium and protein requirements so we tailor to meet their needs.

Activity levels - Is your dog a couch potato or more energetic than a toddler? Both have completely different calorie requirements.
Years meals are nutritionally dense, packed full of goodness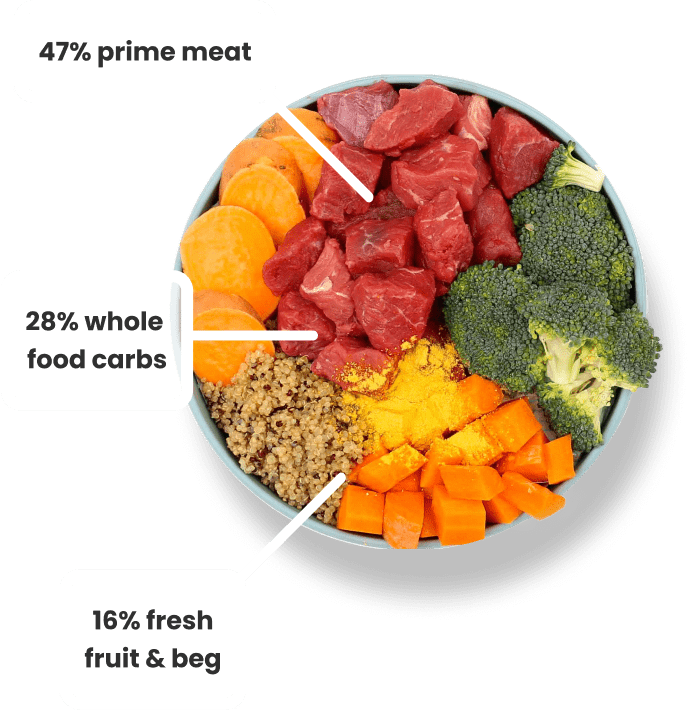 Weight isn't everything. 400g of Pedigree in a tin contains only 19% meat and zero vegetables... Compare that to Years at 47% meat and 16% fruit and vegetables. You can see the difference

Years meals are packed full of nutrient dense whole food ingredients like these
High quality meats - including succulent chicken thigh, tasty turkey thigh, and delicious matured prime beef steak.

Fresh fruit & vegetables - such as carrots, cranberries, spinach, sweet potatoes, peppers. The list goes on...

Essential oils & seeds - with hemp seed oil, a high quality source of omega 3.
More than just a dog food. A Complete Nutrition System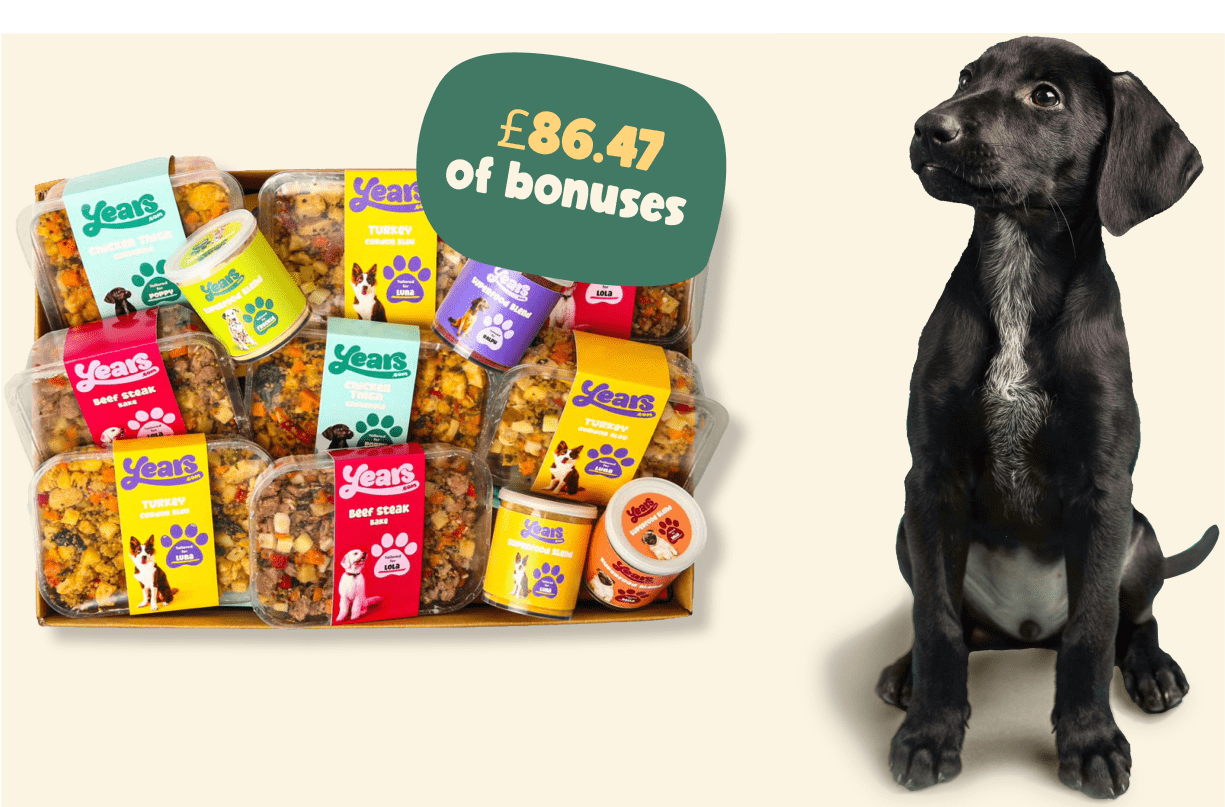 It isn't a typical dog food. It is far more than that - whole food meal, super food supplement, prebiotics, probiotics, essential iols, super fruits, seeds, herbs, cruciferous veg...

One Complete Nutrition System including £86.47 of bonuses:
Fresh whole food meals to support longevity and health.

Superfood Supplement worth £29.99 to support joints, skin & digestion

Prebiotics and probiotics worth £29.99 to support digestive health

Essential oils and psyllium husk fibre worth £26.49
Your price is calculated based on the amount of food your dog needs per day, and the number of weeks of food delivered.
80g
From just £1.05
120g
From just £1.39
180g
From just £1.70
220g
From just £1.78
250g
From just £2.14
330g
From just £2.30
420g
From just £2.90
500g
From just £3.21
660g
From just £3.85
840g
From just £4.95
980g
From just £6.40
old
and weighs
Try Years today
Want an exact price and plan? Answer just a few more short questions by clicking the button above.